Today organizations are faced with a challenging dilemma. The ability to perform and execute tasks on time, within budget, and at acceptable levels of quality is a critical workplace objective, but key personnel often lack the skills needed to consistently achieve desired results. e-coach is a new breakthrough solution. It's an on-line, web-based tool for delivering performance and coaching support that goes beyond traditional approaches. It provides just the right amount of focused material to promote and support just-in-time learning along with the kind of follow-up and coaching support that transforms learning into effective performance – and real results.
The current version of e-coach is built around four general categories or "areas" of competence, and each area is "filled" with standalone coaching modules that address specific business, workplace, or people-related issues or problems.
| | | | | |
| --- | --- | --- | --- | --- |
| | People Smarts | | Personal Savvy | |
| | People Smarts strengthens interpersonal skills and assists in the development of strategies that enable individuals to be effective with executives, colleagues, and customers. Competencies include: | | Personal Savvy delivers information and advice for developing essential personal competencies, such as time management and self-directed learning skills. Competencies include: | |
| | | | | |
| | | | | |
| --- | --- | --- | --- | --- |
| | Business Sense | | Technology Advice | |
| | Business Sense supports the development of core business skills and insights needed to help understand and improve the organization and ensure its success. Competencies include: | | Technology Advice provides help and ideas for using technology available in a given organization. | |
| | | | Content for up to ten topics can be developed by the client organization and it is posted to the site by ECA. | |
Click the links to see specific examples:
All coaching content is based on industry best practices as well as extensive practical on-the-job experience, and it is offered through the Fast Answers, Knowledge Central, Learning Resources, and The Learning Connection (Discussion Areas).
Fast Answers provides right to the point information like the answers you get from a real coach. The current version of e-coach contains over 210 Fast Answers.

Knowledge Central is the place where you can learn more to strengthen and develop skills. This area of e-coach presents coaching support for 100 topics containing over 1,000 Tips and Techniques, 213 practice Ideas, over 100 videos, and 250 custom links to related books, seminars, self-study courses, articles, blogs, videos, and more

The Learning Connection provides fourteen separate Discussion Forums – one for each learning module -- that allow users to interact directly with each other and with coaching experts from E-Coach Associates.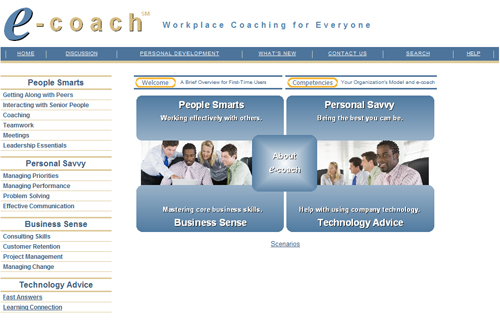 Anticipated Results
For organizations -- front-line workers whose performance is top-notch -- because they:
Have all the skills and confidence – and support – every employee needs to deliver outstanding customer service and support to every internal and external customer – every time, every day.

Have managers who are effective coaches and can give them the help and support they need to use the "right" skills as they interact with employees, customers, and others at every level.

Know how to "put it all together" -- comfortably and consistently – in everyday work situations.

Have what it takes to "delight customers" and achieve individual and organizational success.
For Individuals -- a way to unleash their potential and achieve greater success because they have:
A personal coach of their own -- one who can give meaningful and practical advice immediately as well as provide direction to more information that can be accessed quickly, easily, and efficiently when and if it is needed.

Support -- whenever they want or need it-- to learn new things and apply what they already know.

A place to share ideas, collaborate, and ask questions -- openly or confidentially.

An easy and convenient way to integrate learning into the job, so it is more relevant, interesting, and successful.
To learn more about this ECA offering, please contact us today.